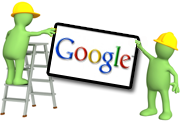 From The Next Web by Chikodi Chima
Companies running Gmail for their email needs are 80 times more efficient than those running their own in-house email servers, Google announced today in a new blog post, "It's Cooler in the Cloud."
A recent report by the Carbon Disclosure Project (CDP) and Verdantix estimates that cloud computing has the potential to reduce global carbon emissions by millions of metric tons. And Jonathan Koomey, a consulting professor at Stanford who has led several studies on data center energy use, has written that for many enterprises, the cloud "is significantly more energy efficient than using in-house data centers."
Small and medium-size businesses cannot create the conditions on their own needed to get the most efficiency out of their mail servers. This is an imperative for a company as large as Google, which powers the email accounts of more than 4 million businesses who use Google Apps.
Even a small reduction in electrical consumption per user spreads the impact tremendously! The blog post also included some more fun facts about ways Google products such as YouTube save energy over watching DVDs.
The servers needed to play one minute of YouTube consume about 0.0002 kWh of energy. To put that in perspective, it takes about eight seconds for the human body to burn off that same amount. You'd have to watch YouTube for three straight days for our servers to consume the amount of energy required to manufacture, package and ship a single DVD.